The February 2016 Student of the month is Caitlin Smith from Hollard Park Pharmacist Advice.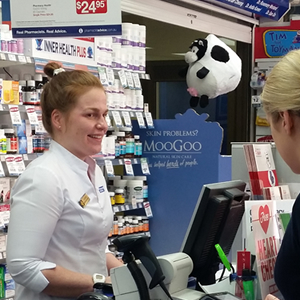 Caitlin has been nominated by her Trainer/Assessor, Sharyn McErlean, who has been impressed with Caitlin's work over the last year. Specifically, Caitlin's dedication as she finished her Certificate III in Community Pharmacy in April 2015 and moved straight on to her Certificate IV in Community Pharmacy by May 2015.
Sharyn said, "Caitlin is a great asset to her pharmacy, she is a fantastic student and I am always impressed with the calibre of Caitlin's workbooks and assessments".
Caitlin's boss, Chris Messina (also pictured above) also had positive words to share:
Caitlin is the most efficient person I have ever worked with. She can be relied upon to handle any job and is able to take direction. She also takes ownership and makes decisions where required. It's wonderful for Caitlin to get recognition as student of the month!
As the February 2016 Student of the month, Caitlin will go into the draw to win the 2016 Student of the Year. The Student of the Year will win a Full Pharmacy Assistant National Conference Registration for 2017. Please read the Terms and Conditions here.
If you would like to nominate a Student in your pharmacy, please get in touch with us via panews@qldguild.org.au or talk to your Trainer.