The January Student of the Month is Lynda McCarthy from New Market Discount Drug Store in Brisbane. "Lynda who is originally from Ireland, is a very enthusiastic student and is very motivated to learn about Australia's rules and regulations as part of her training."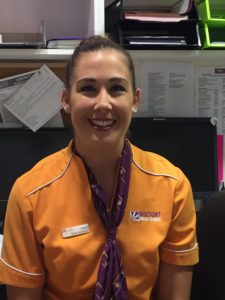 Guild Trainer/Assessor, Linden Pirrone, who nominated Lynda had this to say:
"Lynda is a very high achiever, and the quality of her work is some of the best I have seen. She is extremely vigilant in submitting her assessments on time. Through Lynda's written assessments and verbal discussions, she demonstrates outstanding leadership qualities. Lynda has a natural ability to connect with staff and supports them wherever she can. " Lynda is currently undertaking her Certificate IV in Community Pharmacy.
Rebecca Lever, Pharmacist Manager at New Market DDS agreed, adding that "Lynda is always willing to go above and beyond and is very passionate in what she is doing."
As the January Student of the Month, Lynda will receive a Student of the Month certificate and go into the draw to win the 2017 Student of the Year award. The Student of the Year will win a Full Pharmacy Assistant National Conference Registration for 2017. Please read the Terms and Conditions here.
 If you would like to nominate a Student in your pharmacy, please get in touch with us via panews@qldguild.org.au.