Pharmacy Practice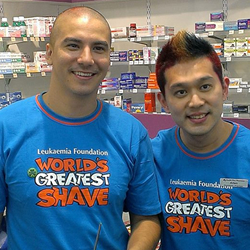 Officer, Katy Duldig stopped by Sinnamon Park Pharmacy earlier this month and noticed not only their great shirts advertising their Facebook page, but also found one staff member missing some hair and another with an outrageous colour scheme.
Turns out, it's not a usual sight to see as the team had put their heads together for 'The World's Greatest Shave' to raise funds for the Leukaemia Foundation.
With the assistance of Brittney (centre), Allen (right) had his hair bleached and multi-coloured and Ben (left) took the plunge, shaving everything off!
They raised over $1,000, go team!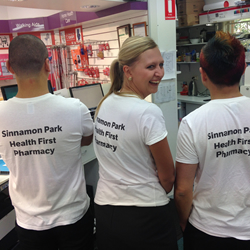 If your pharmacy have done any fundraising with a twist, we'd love to hear about it so get in touch!