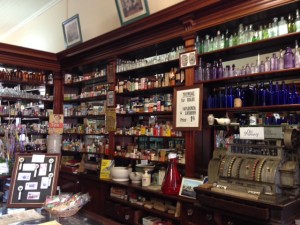 While in Childers on QCPP visits, Pharmacy Practice Officer Melanie Gill was surprised to find the Childers Pharmaceutical Museum so she stopped to take a look.
The Museum started out as Childers' first pharmacy in 1894 under the name Gaydon's Pharmacy, and closed doors in 1982 when the resident pharmacist passed away suddenly. Nothing was touched in the dispensary, so when the shop was sold to the local Council in 1987, there was a treasure trove of mysterious potions and handmade medications dating back to 1894.
Visitors to the Museum can get a firsthand view of pharmacy practice up until 1982 and it's nothing like it is today!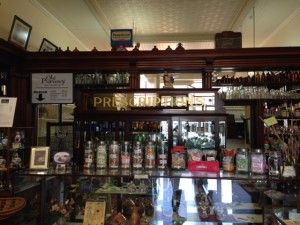 Melanie was glad she didn't have to do a QCPP visit at Gaydon's Pharmacy, but loved looking at the amazing collection of old jars and bottles — some with seeds, others with powders and some with dried resins. She was particularly impressed with how well everything had stood the test of time, from bottle labels to pharmacy journals and even the old cash register, which cost the same amount as it did to purchase a 3-bedroom home in Childers at the time.
If you're ever in the area, it's worth a look!