The 2015 Pharmacy Guild of Australia/GuildSuper Pharmacy Assistant of the Year is the passionate Erin Pavy from the ACT. She wowed the judges with her compassion, knowledge and drive to help her customers.
Erin has made PATY history as the first National Winner from the ACT, and she couldn't be prouder!
We caught up with Erin to talk about her time in pharmacy and her PATY experience.
Congratulations on your win, Erin!
Thank you so much! I'm absolutely thrilled. I've been a pharmacy assistant for 22 years and to have this recognition is a testament to the work I have put in.
I would like to say a huge thank you to my employer, work colleagues and customers for their support and enthusiasm. They make it a pleasure to go to work every day. Also, GuildSuper for sponsoring the Award, and the ACT and National Guild branches for being so encouraging and helpful. I am so grateful to all the Guild staff, thank you!
All the other State Winners, the 2014 winner Dimity and our facilitator Mel are such incredible, inspirational and passionate women. We had such a wonderful time together sharing our love of, and commitment to, community pharmacy and celebrating our joy of working in such a rewarding industry.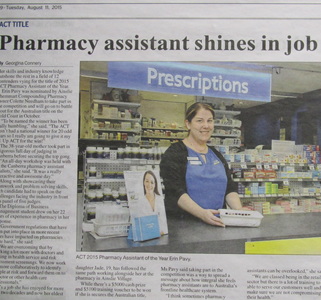 Tell us about your PATY experience.
It's been incredible! Throughout the whole process, my work team, my friends and family have been so supportive. It was lovely that quite a few colleagues from over the years got in touch to congratulate me. I really enjoyed the workshops with both ACT finalists and my fellow State Winners. They were fun, interactive, challenging and it was such a pleasure to meet passionate, like-minded pharmacy assistants. When I became the ACT Winner, I was interviewed by the Canberra Chronicle (which was a bit nerve-raking) and they printed an article in the newspaper about me!
Winning the National title has been on a whole other level. It feels amazing to be recognised in this way. I would strongly encourage all pharmacy assistants to nominate a co-worker, or themselves, in the PATY awards. It has given me the opportunity to experience training and networking with like-minded, dedicated pharmacy assistants in a wonderfully supportive environment. Participating in PATY gives Pharmacy Assistants the opportunity to showcase their skills, ideas and knowledge which is very rewarding.
How did you get started in pharmacy?
I started in pharmacy at the age of 16 in a small coastal town called Narooma. It was my first job straight out of high school. I knew the pharmacy was where I wanted to work and fell in love with it from my first day! The idea that I could learn to help people with their health and well-being gave me a purpose and the direction that I was looking for.
You've been in pharmacy for a while, how has your interest evolved over that time?
My interest in pharmacy has evolved by learning, step-by-step, all facets of managing a pharmacy, and each step has kept me enthused and wanting to know more.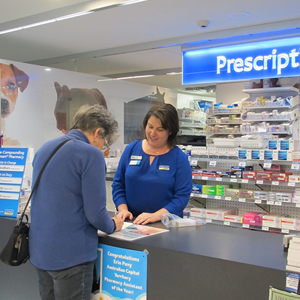 I started off as a junior pharmacy assistant in the front of shop. I made it my goal to gather as much product and health condition knowledge as possible, so I could assist our customers.
From there, I worked my way up to stock control and category management, then dispensary technician, dispensary manager and finally retail manager. Along the way I always tried to learn as much as I could about each area of the pharmacy to not only improve my own skills but also improve how the pharmacy is operated and managed.
I am now the retail manager for Ainslie Chemmart Compounding Pharmacy, which is a diverse community pharmacy in inner North Canberra. Our emphasis is on providing a whole health solution to our client base, offering a wide range of in-store services, a busy compounding lab and focus on our customers' individual needs. My interest now lies in managing a store with highly skilled, customer service centred staff who love what we do and have fun doing it.
You've worked in so many areas, do you have a favourite?
It really depends on the day and what is happening in that particular area. I find that all areas in the pharmacy are valid in making the pharmacy work as a whole. All sections from the front-of-shop, through to the dispensary, out to the administrative area and everything in between, all allow us to accommodate our customers diverse needs. So, in a nutshell, I don't have a favourite area, they are all my favourite!
What qualifications have you gained and how important is training to you?
When I first started in community pharmacy there were no certificates to obtain so the majority of my knowledge was through on-the-job training. I have been very lucky to be employed by amazing pharmacy owners who have invested a lot of time in my training and have mentored me throughout my career in every facet of managing a pharmacy. Training is so valuable in pharmacy, staying up-to-date with the various conditions, products and services for customers is really important.
I am currently completing a diploma of business management. This has helped me to refine my skills as a manager and implement more streamlined/effective processes throughout our pharmacy.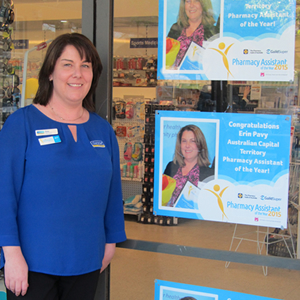 Can you share a favourite story from your time in pharmacy?
I had a new mum with a 7-week old baby boy come into the pharmacy; she was absolutely exhausted because she hadn't slept for more than a couple of hours at a time since bub was born. She had just been to the doctor who had prescribed temazepam, but had told her she should either express her breastmilk prior to taking the medication and bottle feed him or formula feed whilst taking it, as it can be passed on to the baby.
As she was telling me this, she started crying because she wanted to exclusively breastfeed her baby for as long as possible and was very concerned about him getting nipple confusion. She was really stressed and upset and my heart broke for her! I invited her into the counselling room where she could tell me her fears and cry herself out in private. We then started talking about her options.
We talked about a range of bottles and teats we stocked which were designed to be as close to a natural breast as possible, thereby decreasing the risk of nipple confusion. Next, we talked about trying a natural sleeping preparation suitable for breastfeeding mothers so there would be no need to bottle feed. She preferred to try the second option first and if that wasn't successful she'd consider the teat range we stocked.
I collected several natural sleeping preparations and explained to her that I wasn't sure which were suitable, but that we could phone the companies to get the correct advice from their naturopaths. I did this in the counselling room while she was sitting next to me and after discussing the different products, we came up with a suitable one for both mum and bub. We discussed the directions and also some ideas to assist with relaxation before bed to get optimal results. I also arranged for her to come back in 3-5 days to see how she was going. After hugs, mum left with a smile and feeling much better than when she came in.
When I arrived at work the next day I was given a lovely potted plant and a card from the sleepless mum saying, "Thank you – I slept!!!" She came in later in the week saying that she had slept the previous three nights, was feeling so much better and a lot less stressed out. That was very much a feel good moment for me!
What do you do in your spare time?
When possible I go to the coast as I love spending time at the beach swimming and surf-skiing. I love spending time with my immediate and extended family. I also read anything I can get my hands on and love watching a good movie while crocheting. Super bright "nanna square" blankets are always on the go at my house!
What inspires you?
Travelling! For the past 12 years I have travelled to some fascinating and inspirational places, including the jungles of Borneo, visiting hill-tribes in Northern Thailand and Myanmar, and villages in Cambodia to name a few. I've met some amazing people and experienced different ways of life. Of course I also go into every pharmacy I come across when I'm overseas, and have seen some very "different" ones!
Exposure to other cultures has given me a deeper appreciation of cultural diversity, extreme poverty and an understanding that every person has a unique history and personal story. This inspires me to treat each customer and team member as a unique individual with his and her own specific needs and desires.
As well as the PATY recognition, I feel humbled by, almost daily, overwhelmingly positive feedback from customers confirming that I am on the right track and doing well the job I love.