Who will be the 2018 National Pharmacy Assistant of the Year? South Australia, support your State Winner Laura at the Pharmacy Assistant National Conference on 25-27 October 2018 at Sea World Resort, Gold Coast. Meet and learn from all of the State Winners on how they became the 'best of the best' during the Q&A session on 26 October. Then witness who will be announced as the National Winner at the Conference Dinner that night! Learn more at www.pharmacyassistants.com.
PATY SA State Winner
Laura Mckinlay from Crossroads Pharmacy Port Augusta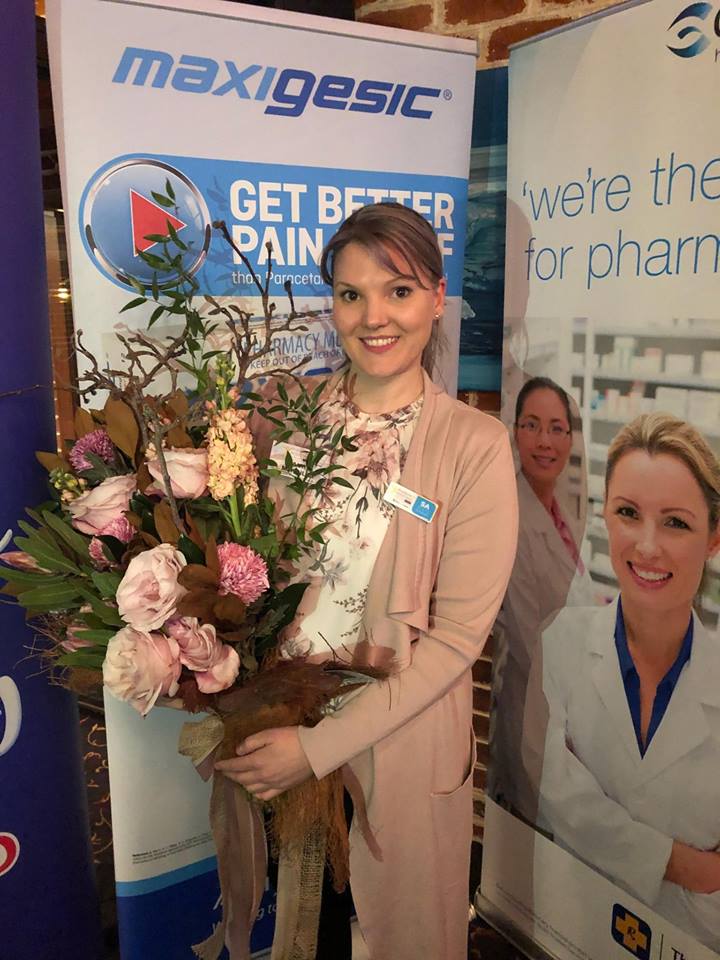 What was your reaction when they called your name as the SA State Winner?
I was extremely overwhelmed and pretty shocked, but totally over the moon with excitement! Everyone who was there was so deserving of the award, and such an amazing group of like-minded people. They were all so nice also.
How did you first get into pharmacy? Can you give me a brief overview of your career in pharmacy?
I got into pharmacy through a friend that was working in the industry at the time. I thought I'd like to try something new. I started out as a front of shop girl and doing local deliveries to our customers for Webster-paks. After a few months, I was given the opportunity to learn about CPAP. In doing so, I then became a CPAP Consultant. Within my first year, I was also given another opportunity to do the purchasing role for one of our stores. I soon grew to love this role and it's where my true passion developed in pharmacy as I got to learn about so many new things on a larger scale, all the highs and lows of the pharmacy industry and ways to rise above and keep community pharmacies going strong.
A few months after that, I was doing the buying for all three stores as Retail Manager and was lucky enough to attend more trainings and seminars in order to expand my knowledge and skills.
I have been working for Crossroads Pharmacy for about two and a half years now.
What qualifications do you have?
I've almost finished my Certificate III with the Guild. I've also done the S2/S3 training.
How do you think training has benefited you in your career?
It's opened my eyes massively. Also, it's helped to stop people from going online by offering a service that you can't get. To build that bond with the customer and the product knowledge as well has just been phenomenal. It helped me to realise that pharmacy is not just retail – it's here to provide healthcare for patients. My bosses have supported me with any training I've asked to do, and they have sent me away for so many seminars for personal growth and development so I can learn so many things. I'm so grateful for their support and for always believing in me.
What are your career goals?
I'd like to grow the business as much as I can and grow it more into the community side because we're in a small town. For example, I'd like to do more community events to create that bond within the community and to help the customers as well. That's the angle I'd like to go down and offer more of the professional services to stop people going online.
Tell us about your PATY experience so far?
It's been amazing! I was totally blown away to receive the first letter stating that I had been nominated for the award, and was in tears when they kept coming! I was speechless when I got the letter saying I had made it to the top 20 finalists for South Australia! So many people were so deserving, so I was absolutely blown away to receive the letter. Then to win for South Australia took a while to sink in! I was super excited that I rang my mum straight away.
Being from a small town, it was in the local paper, all over social media and I came back to work to have people congratulate me with cards and flowers. I was overwhelmed by all the support. I'm still in shock and extremely grateful to be given this opportunity. I can't wait to attend Queensland for the National award announcement at the Pharmacy Assistant National Conference.
What was the workshop day like? What did you enjoy the most about the day?
The PATY State Workshop Day was amazing! I was really nervous leading up to it, but I really enjoyed every part of it. All the finalists were so deserving to be there and everyone was really lovely.  It was a great experience to be surrounded by people with the same passion, who really believe in what we do and the reasons why we do it.
Would you encourage others to participate in PATY in the future? Why?
Definitely! It's so rewarding not only on a personal level but a professional level as well. I gained a lot from sharing everyone's success stories and little tips I can take back to our store to share with our team. Sometimes the smallest things can mean so much to both our customers and the business, and be just as important as the big things we do. I don't think people realise how important a pharmacy assistant is within community pharmacy, and that's why I believe the PATY award is so important.
What have you gained from PATY so far?
It's opened my eyes that there's more opportunities out there in pharmacy and just to create awareness that we are not here for retail – we're here to help and provide a service to customers for their health needs and benefits. Getting other people's opinions and their different stories, and being able to share that between each other was amazing. Someone might have thought of something that I hadn't and you can take that back and use it in store. We're all sharing ideas to grow the careers we are in.
What would you like to see change in pharmacy?
I'd like to see it recognised not as retail so pharmacy assistants get acknowledgment as a health professional and for the health advice and services we're providing. We're here to provide a professional service.
What do you love about pharmacy?
The community bond and the customers as they make my day. Also, the opportunities that you have in pharmacy. You can go down the retail side or the beauty side, or the Webster-pak side – the opportunities are endless in pharmacy. It's not just the same thing every day. There's so many avenues you can turn down and learn so much about – it's just a great career to have really.
Why would you encourage someone to nominate themselves or someone else for PATY?
Nominate someone just to give them that drive and to be able to get acknowledged from their achievements. Nominate yourself because it's a personal goal as well. You want to give it your best shot, see how far you can go within your career to be the 'best of the best' and you learn from other people as well.