Erin has been a Guild Trainer/Assessor since 2015 and has over seven years' experience as a pharmacy assistant.   Erin was also a Queensland state finalist for Pharmacy Assistant of the Year (PATY) in 2015!
We wanted to get to know Erin a bit better, so we sat down and asked her a few questions about her time in pharmacy.
How did you get started in pharmacy?
I was encouraged by a friend who had a career in pharmacy to give it a try because she loved it. A few months in, I began to understand why she loved it so much and found I did as well.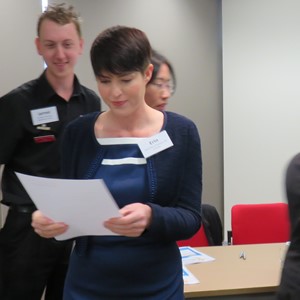 In your seven years, how has your interest in pharmacy evolved?
There is so much to learn and understand within the pharmacy industry. It is a never-ending journey, which is why I enjoy it so much.
It's probably hard to choose, but do you have a favourite area in the pharmacy?
I really like the dispensary aspect of pharmacy. It is great to work alongside such knowledgeable team members.
What qualifications have you gained and how have they helped you in your career so far?
I have my Certificate IV in Community Pharmacy and a Certificate IV in Training and Assessment. Having this knowledge is paramount to me being able to help customers and my students.
What is a favourite/proudest moment or biggest achievement from your time as a pharmacy assistant?
I think my highlight within pharmacy was to be nominated and selected as a State Finalist for PATY in 2015. It is lovely to be acknowledged by your pharmacy team for the effort you put into your job.
How long have you been a Trainer/Assessor and why/how did you get started?
I have been a Trainer/Assessor at the Pharmacy Guild since September 2015. After meeting the Guild Queensland Branch team at the PATY workshop, I really wanted to be involved with them. When I saw a position become available, I applied straight away.
What do you enjoy most about your job as a Trainer/Assessor?
I really enjoy helping all my students reach their learning goals and assisting them to become more knowledgeable within their field.
What is your proudest moment or biggest achievement from your time as a Trainer/Assessor?
My proudest moment so far would have to be completing the final training session with one of my first students and congratulating them on their effort!
What do you do in your spare time?
In my free time, I like to ride and look after my two horses. I also really enjoy going out to nice restaurants and catching a movie.
What inspires you?
I am inspired by people who set goals and focus on ways to improve themselves.
What would you choose as your super power?
I would love to have teleportation as a superpower because I could get so much done in a day!