By Amy Billing, Content Creator
Finally, it is summertime, and that means Sunday barbecues and long, lazy days on the beach!  We're Aussies, and we grew up playing beach cricket and playing in the sun, but we know all too well about the dangers of the harsh Australian sun. It doesn't matter how often you seem to apply the sunscreen – if you're soaking up the sun then you're catching those deadly UV-Rays! As we roll into summer, it is the perfect time to refresh your sun safety knowledge and be prepared for any questions that may be asked in the pharmacy.
When it comes to skin protection, it is better to reduce your chance of sunburn rather than treating it. With only 12% of the population buying sunscreen (Pharmacy Daily, 2016), pharmacy needs to be aware of the extra advice that they can give to help maximise the customer's protection and increase their sun awareness.
We all remember Sid the Seagull singing 'slip slop slap', but this year, Kozi has partnered with the Cancer Council Queensland to bring style to the 'slip' of sun protection! This Christmas, you can wear the 'Ugly Xmas Rashie'!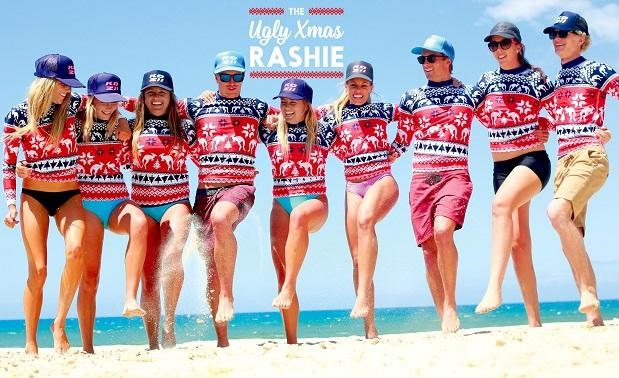 (The Ugly Xmas Rashie)
The ugly rashie is a game changer! Who knew that sun protection could be so festive, yet so ugly at the same time (ironically, of course!?) You can purchase these beauties on the Cancer Council online shop. According to the Cancer Council, "between 95 and 99% of skin cancers are caused by exposure to the sun" (2016).
With two in three Aussies diagnosed with skin cancer before the age of 70 (Cancer Coucil, 2016); it's especially important to cover up over the Christmas season.
Reference
Pharmacy Daily, (13 October 2016) "Sunscreen education" Epping NSWPharmacy Daily. http://issues.pharmacydaily.com.au/2016/Oct16/pd131016.pdf
Cancer Council, (6 October 2016) "Skin Cancer" http://www.cancer.org.au/about-cancer/types-of-cancer/skin-cancer.html