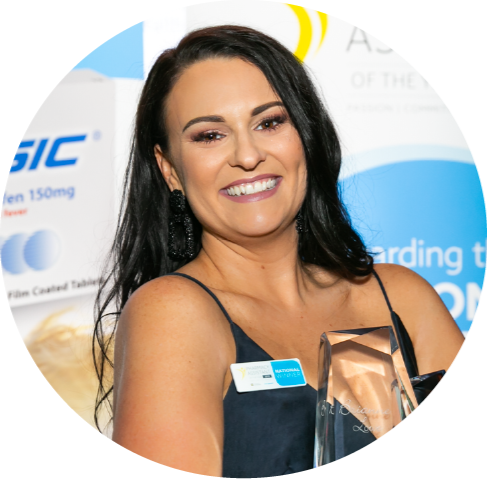 By Brianne Lowe, 2019 Pharmacy Guild of Australia/Maxigesic Pharmacy Assistant of the Year
It sure is the most wonderful time of the year but if you work in retail, it can also be the most challenging. Combine frantic last-minute shoppers with patient's expectation of 'business as usual' in the dispensary, and you will start to see why Santa has a naughty list. You may already be feeling the pressure of extended hours, however we must remember to stay positive and embrace the true miracle of Christmas… increased foot traffic! This gift brings a multitude of opportunities including a rare opportunity to work on customer retention as well as converting first time shoppers to lifetime regulars.
Leverage new customers
November and December brings new shoppers to your store who will be seeking to find the perfect gift and may also drop in a prescription. Consider how to leverage these new customers by delivering a high level of service and demonstrate why they should be visiting your pharmacy more often. This is the perfect opportunity to upsell loyalty programs and follow up by sending out call to action emails to prompt a return visit.
Dealing with challenging customers
Whilst some of us may love to shop and spend money (eg. me), unfortunately not everyone revels in the joys of giving. We often experience frustrated consumers; but this is another opportunity to win them over with excellent customer service. Try to put yourself in their shoes; fighting the car park traffic, navigating a hectic shopping centre and then waiting in line to be served only to be told the product you were hunting down has sold out!
When faced with a customer service challenge, it's important to stay positive, acknowledge their frustration and offer a solution. Ask the customer who they are buying for and seek out another alternative. If that fails, try to source products from another store or even offer to elevate their complaint to a manager or pharmacist. In my experience, customers appreciate you going the extra mile to come up with a solution and this often de-escalates the situation.
Dealing with shoplifters
Another encounter you will surely face will unfortunately be a shoplifter or two. Now is a great time to go over your theft and apprehension policy with your staff. Remember to reinforce that the best deterrent is to deliver a high level of service by greeting all customers, reminding them you will be near by if they need further assistance and offering out shopping baskets.
Leverage regular customers
The holiday period is also a great excuse to reach out to our regular customers with an exclusive VIP night invite, gifting 2020 Calendars or it can even be as simple as a season's greetings card to thank them for their support over the past 12 months. Simple gestures like these are inexpensive and are a unique way to show your customers their loyalty and support is valued.
If you haven't already, start having conversations with your Dose Administration Aid customers about their holiday plans. Are they visiting family and need their medication early? Also take into consideration customers who are on high cost or uncommon drugs that you may not readily stock. Will they be needing their medication over the busy period?
Another important topic for discussion is their Safety Net expiring on the 31st. Regular customers will appreciate the extra attention given to the management of their medications. Hopefully some will be thankful enough to gift some home baked Christmas treats for morning tea in return. Whilst having these conversations, also start to communicate extended trading hours or closures and then reiterate via in-store signage, social media, email or even SMS closer to the day.
Being prepared and communicating with your team about how best to navigate some of these situations will ensure the resting Grinch faces are kept at bay. Don't forget to breath, smile and be sure to wish everyone Happy Holidays, Merry Christmas, Happy Hanukkah and a safe New Year!