By Kathy Gribble, Guild Trainer / Assessor
More than 350 delegates from around Australia gathered at QT Gold Coast in October for the annual Pharmacy Assistant National Conference (PA2017). The PA Conference is like the Ekka for Pharmacy Assistants – two and a half days of excitement, thrills, food, drinks and of course show bags!
The conference commenced on Thursday with a pre-conference workshop which saw attendees 'Walk the Store' in order to maximise the appeal of their pharmacy. The first day then continued with the always enjoyable Welcome Reception which provided delegates with a sneak peak of the trade exhibition and the opportunity to network and make new friends before the conference officially commenced on Friday morning.
A dynamic range of speakers impressed and informed delegates at this year's event. My program highlights included Laurie Kelly's engaging workshop on active listening and Olympic Gold Medal swimmer Leisel Jones's inspiring story of her struggle with mental illness and the key ingredients for attaining success both personally and professionally.
Customer Experience Expert Amanda Stevens shared her secrets on how to turn customers into advocates, the Guild Queensland's Business Support Team who discussed the future of pharmacy, and Community Pharmacist John Bell, who presented the complexities of pain management and how pharmacy assistants can stay ahead of the changing environment.
Mel Kettle, marketing and social media consultant revealed the buying power and influence of women and the tricky consumer stereotypes to avoid. After all, 85% of consumer purchases are made by women: who run the world…. GIRLS!!!! Our very own Jill Power gave us a very interesting insight into what customers see and want from us and our stores, through the Customer Experience Index.
Delegates were wowed by the 30+ stands in the trade exhibition, where they sampled new products and learnt practical tips and tricks to apply back in their pharmacies.
Attendees joined in on the excitement during Friday night's Conference Dinner as Stephanie Meiklejohn from Nhill Pharmacy, Victoria was crowned the 2017 Pharmacy Guild of Australia/Maxigesic Pharmacy Assistant of the Year, and Shari Stevens from Discount Drug Stores Kingston, Tasmania was awarded the Glucojel Super Star National winner. The 'Medieval' themed dinner saw the QT Ballroom transformed into a castle where kings, queens, knights, court jesters, and damsels in distress celebrated like royalty, dancing the night away to a live cover band.
Last but definitely not least, my favourite part of the PA Conference is meeting the amazing pharmacy assistants from all over Australia! Networking and collaborating with other like-minded and passionate pharmacy assistants reinvigorates my passion for Community Pharmacy. We as a group have so much knowledge and ideas we can share with each other.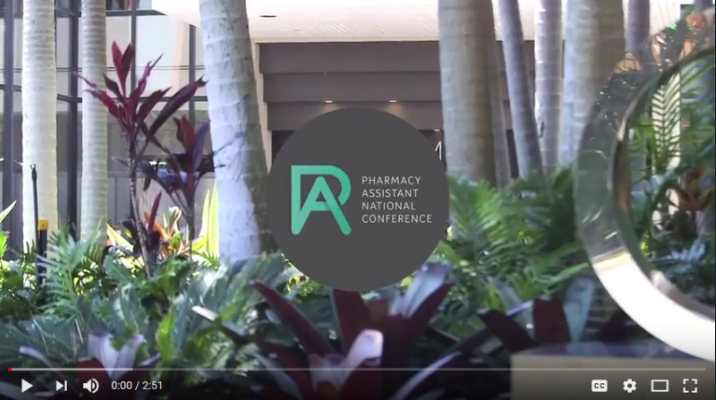 But don't just take my word for it, check out the wrap video to see all the highlights from the conference!
Mark your diaries for PA2018, which will be held from 25-27 October at Sea World Resort.